Bonnie's Restaurant is one of the few remaining businesses on Front Street (Glouster's main street). Bonnie Shifflet opened the restaurant with her husband 25 years ago when most businesses were starting to close down. She has the same regular customers every morning, and it is a common gathering spot for the Glouster community.
Ohio State Route 13 brings traffic through Glouster's Front street. Most of Front street's businesses have closed down, but many of the townspeople fondly recall a time when there was parking on both sides, and cars could hardly pass through the crowds of people walking through the town center.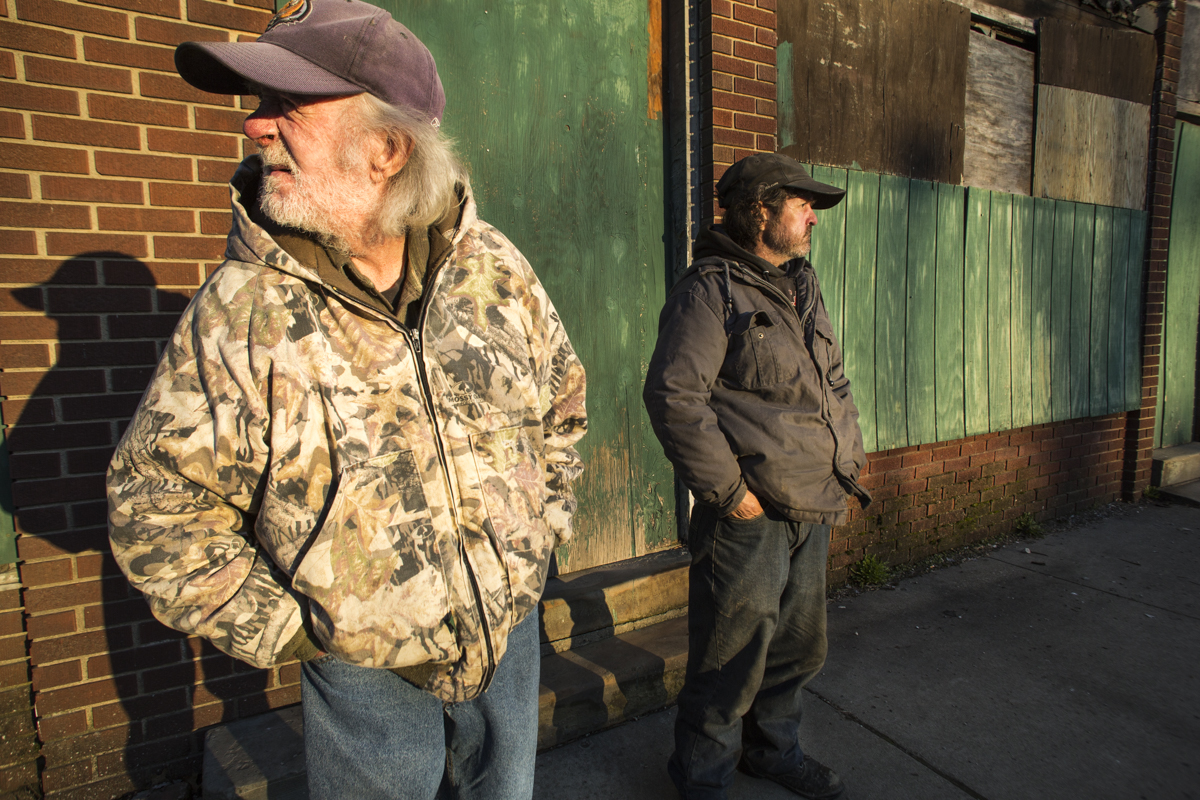 James Reed, left, and John Exline pass the time watching cars go by outside of the former Wonder Bar on Glouster's main street. Exline says he is unable to find work in Glouster, and is unable to drive because of recent seizures. He survives on Food Stamps and the occasional extra money from his sister who lives in Jacksonville, Ohio.
Bonnie Shifflet of Bonnie's Restaurant, left, has full custody of her three grandchildren. Bonnie's granddaughter Keirsten is currently a senior at Trimble High School and works as a waitress at the restaurant. She says she was "basically raised" there, and started helping out whenever she was 12 years old.
Sealed coal mines can be found throughout the Little Cities of Black Diamonds region. They're closed by the Ohio Department of Natural Resources who determine whether a mine or the acid mine leakage pose a threat to human life.
The Pit Stop Drive Thru sits vacant next door to these soda machines in Nelsonville. The Pit Stop closed in March 2017 after 30 years of business. According to Owner Jane Edwards, business dropped significantly after the opening of the U.S. Route 33 Nelsonville Bypass. Edwards says the business from local residents "wasn't enough to keep the lights on." The soda machines are still open because they're cheap to run, and the locals can provide enough business.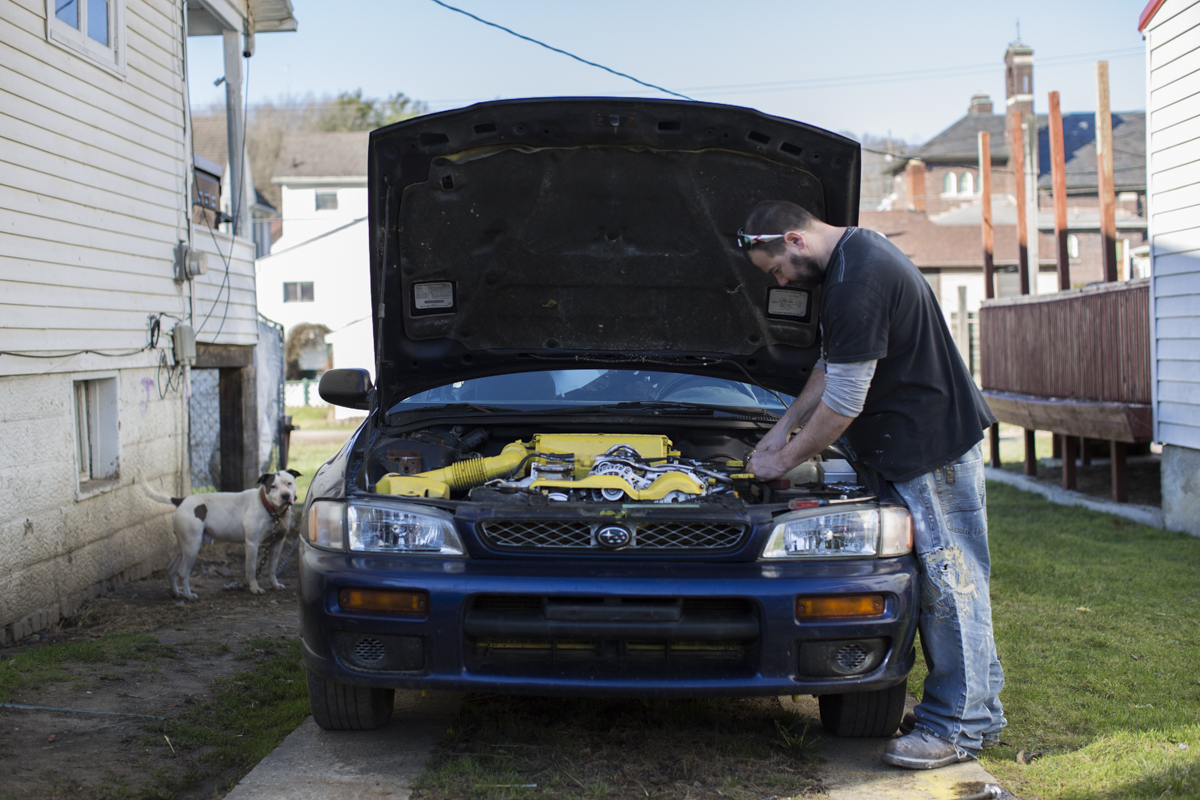 Mike Christy was originally born in Columbus, and moved to the Glouster after marrying his wife who grew up there. Christy says he hates Glouster because some of the people are "idiots". He works with his wife's uncle renovating homes as a day job, but enjoys fixing up cars. He wants to open his own garage at some point, but for now uses his skills to maintain the family's cars.
Mural of Glouster that overlooks where the old hotel used to be. A mural is attached to the side of the former Gene Rushing's Tire Shop. Mayor Miles Wolf says each of the persons portrayed is "someone who did something great in town." On the left is a portrait of Ida Mae Stoneburner who founded The Glouster Project and restored the Glouster train depot among other things.
Chaz and Allison, right, Richards help their daughter Braylee, left, with her homework while cooking dinner. Allison and Chaz both work in Athens, but choose to stay in Glouster because of the good people there, and the low cost of living. "If you stay out of the wrong crowd it's easy living here," said Chaz Richards.
The reflection of the former Welsh Baptist Church is seen in the window of an abandoned home on Summit Street in Glouster. The Baptist Church was converted into apartments by a former owner, and was recently transferred to a new owner for the price of $29,640 Both buildings now sit vacant.
Dallas Shafer, 12, plays "army versus gangster" with his brother and a neighborhood friend. Shafer says that he gets his military gear from "a friend who has a bunch". His favorite piece of equipment is the canteen. He says that when he grows up he wants to join the military "just because."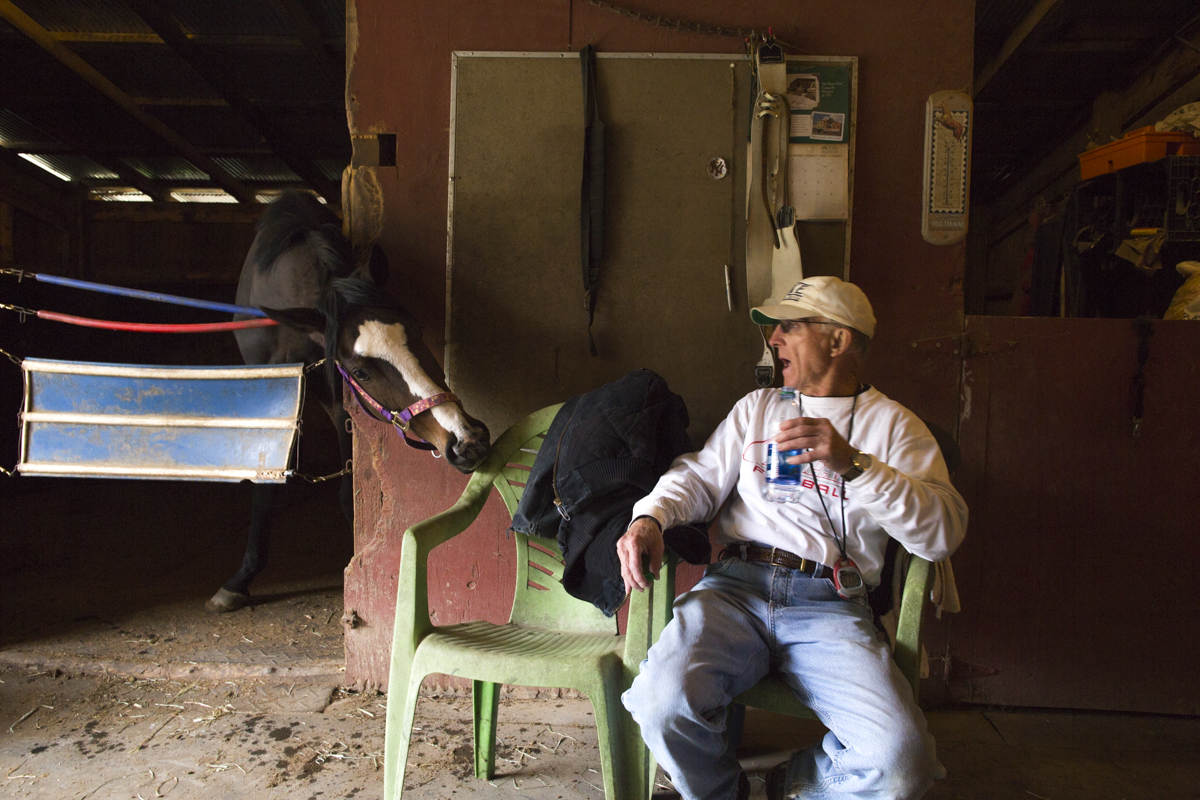 David Richards was raised in Glouster when it was still a thriving mine town. His father was a coal miner who told him "Pick shit with the chickens before you go down in that mine." Richards chose to work in Detroit car factories for many years before returning to Glouster to work as a custodian at Trimble High School.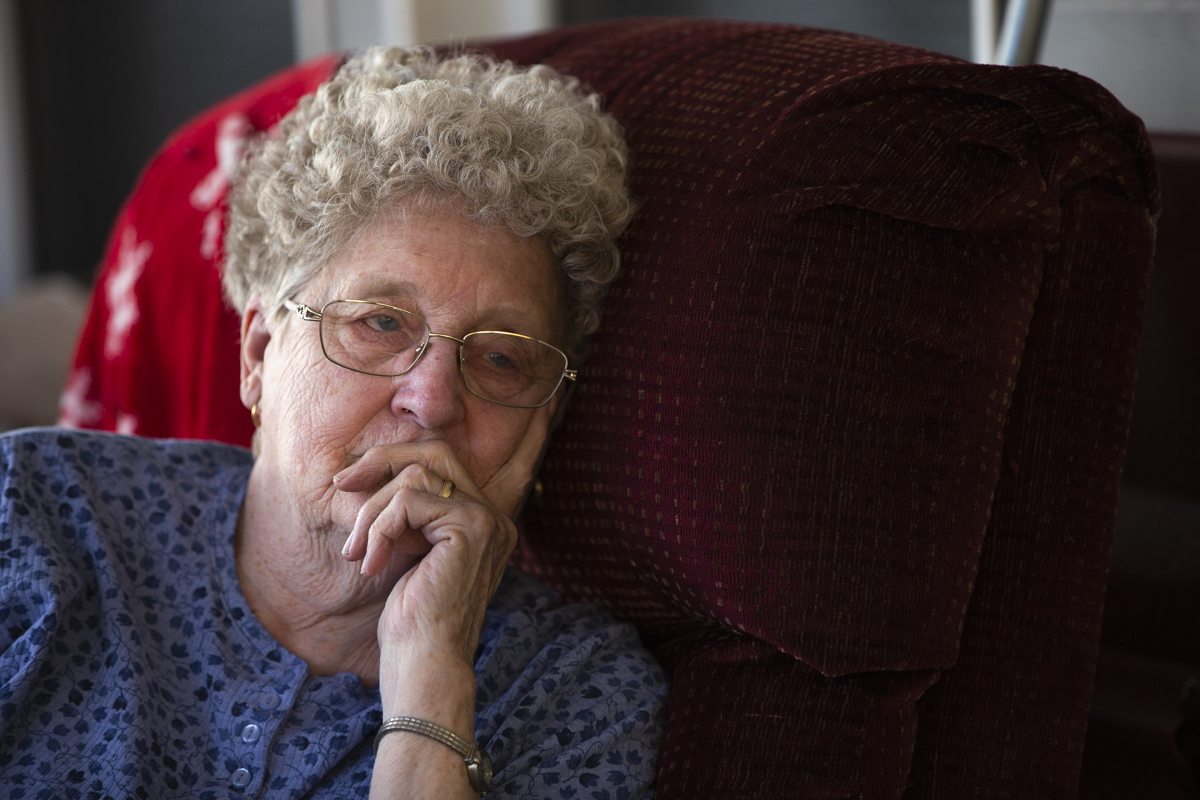 Mary Jo Bycofski sits on her porch and mourns the loss of her great granddaughter. The child was unresponsive at birth and was taken off life support a few days after birth. "We've never felt a loss like this" said Larry Bycofski. The Bycofski's moved to Glouster in 1960 and raised five kids who have all stayed within an hour from their original home to raise their own families.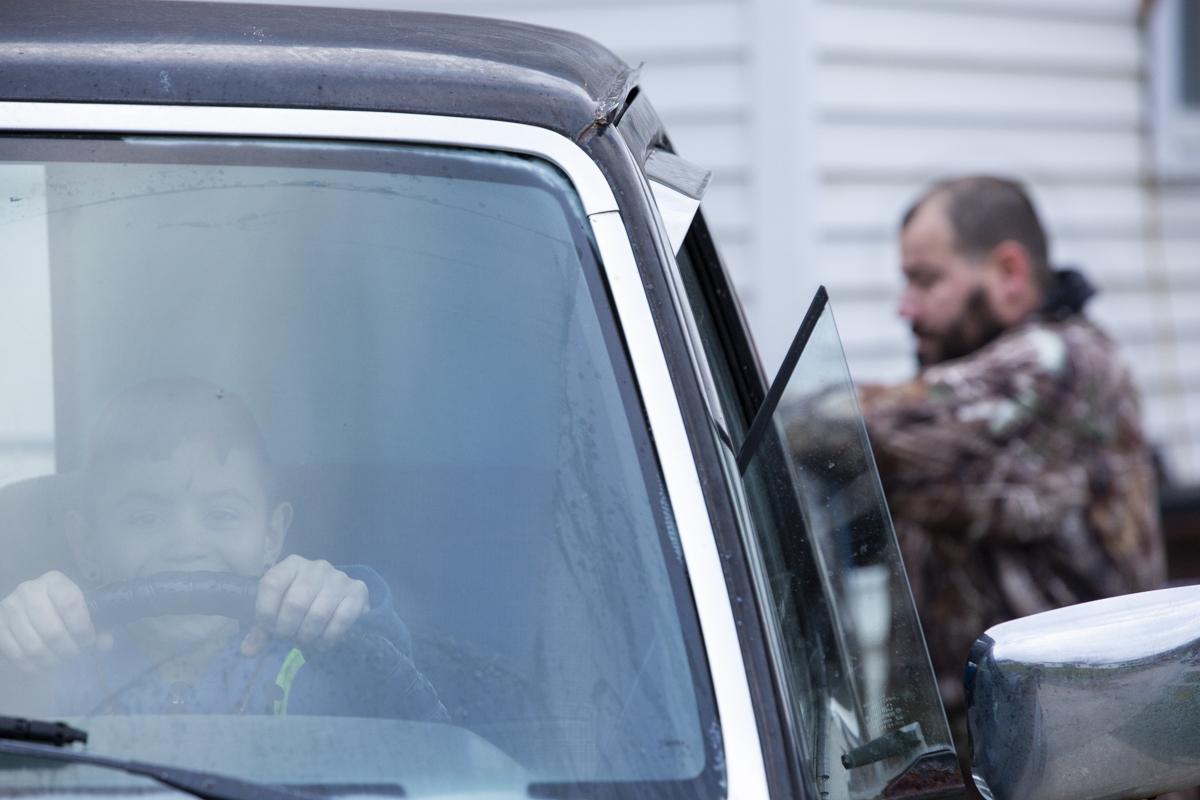 Donovan Christy pretends to drive his father's truck while he loads scrap to be taken to a junkyard. Donovan "tries to help" his father while he does work around the house. According to his mother he enjoys taking apart his bikes and scooters the same way his father works on cars.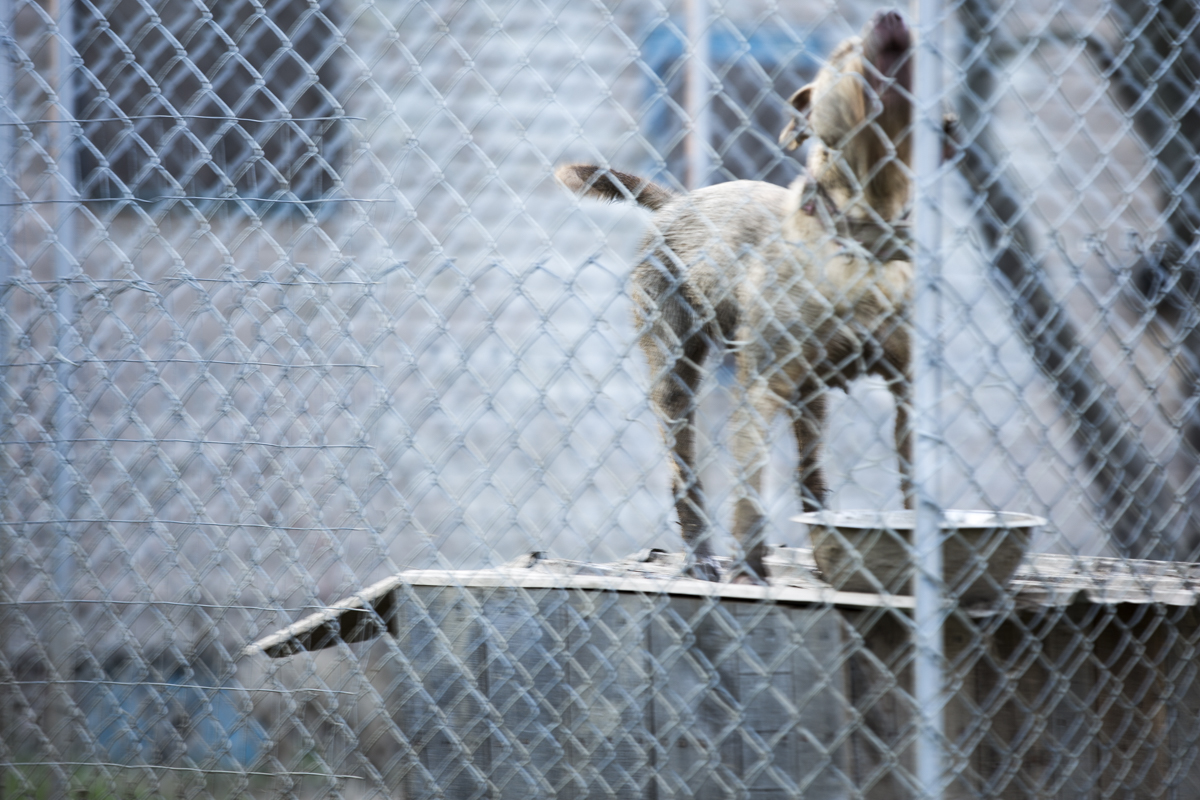 The American Pitbull Calypso was never meant to be a guard dog, but according to her owner James, she still makes it easy to know when people come around the house. James says that even though she can be intimidating, she is a big baby who often chews and digs her way past the fencing meant to keep her in the yard.
The Glouster Project started in the 1980s with the intent to restore the historic train depot, and help to maintain the community's values. According to President Betsy Shamhart, the Project's members are almost all retirees, but she feels the younger generation "needs to step up and do their part" to save the town's history.
The Richards family began raising thoroughbred race horses in the 1970s. Rusty, second from right, began riding for his father David when he was younger, and learned to take care of the horses. Now he and his wife, Heidi, continue to raise racehorses themselves with help from David.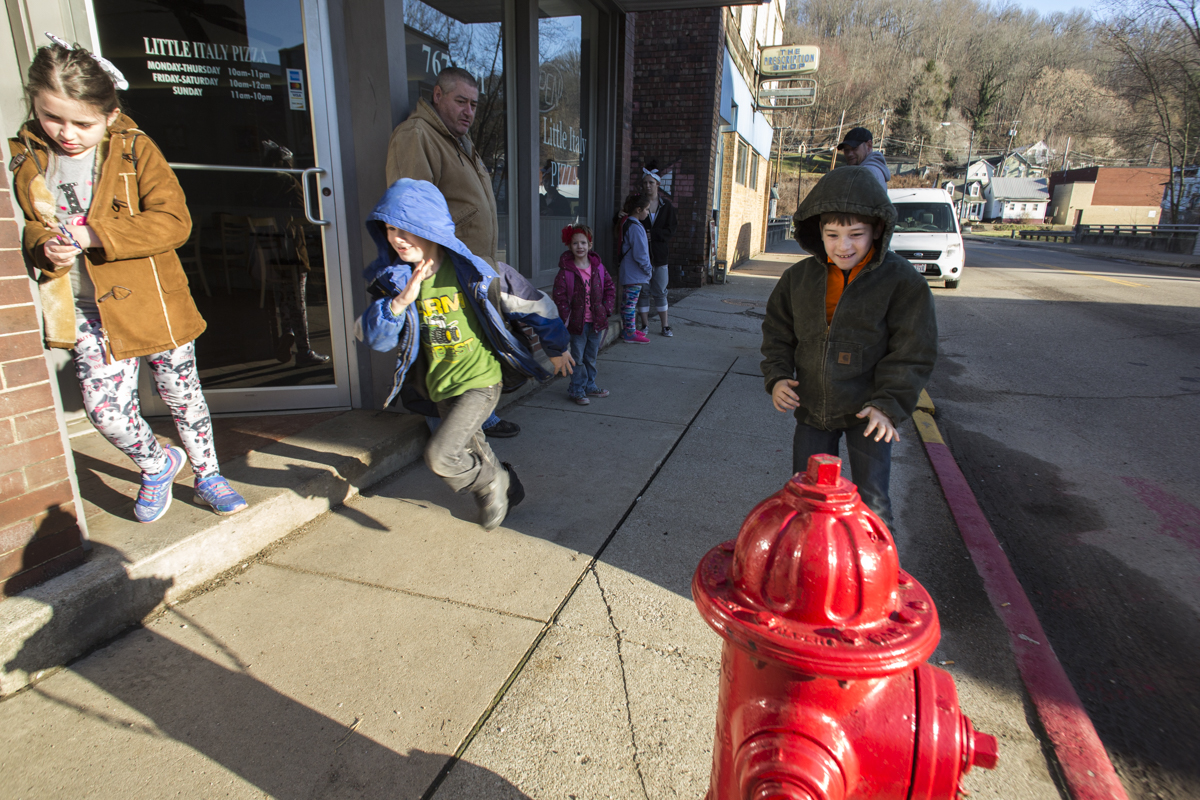 Young children play while waiting for the bus to Trimble Elementary school in Jacksonville. The Trimble school district was created in 1950 as part of a nationwide effort to make school systems more efficient and provide more equal education across small communities. The Trimble School District serves Glouster, Jacksonville, and Trimble. It is one of the smaller school districts in the area at 39 square miles. While other nearby districts extend up to 400 and 500 square miles.
Glouster sits at the junction of the two branches of the Sunday Creek. It receives extremely high and frequent flooding throughout most of the year. The flood waters degrade the oil and tar in the asphalt and create large and numerous potholes. Glouster Mayor Miles Wolf said that to permanently fix one of the most commonly flooded roads would take more than twice their annual budget for road maintenance.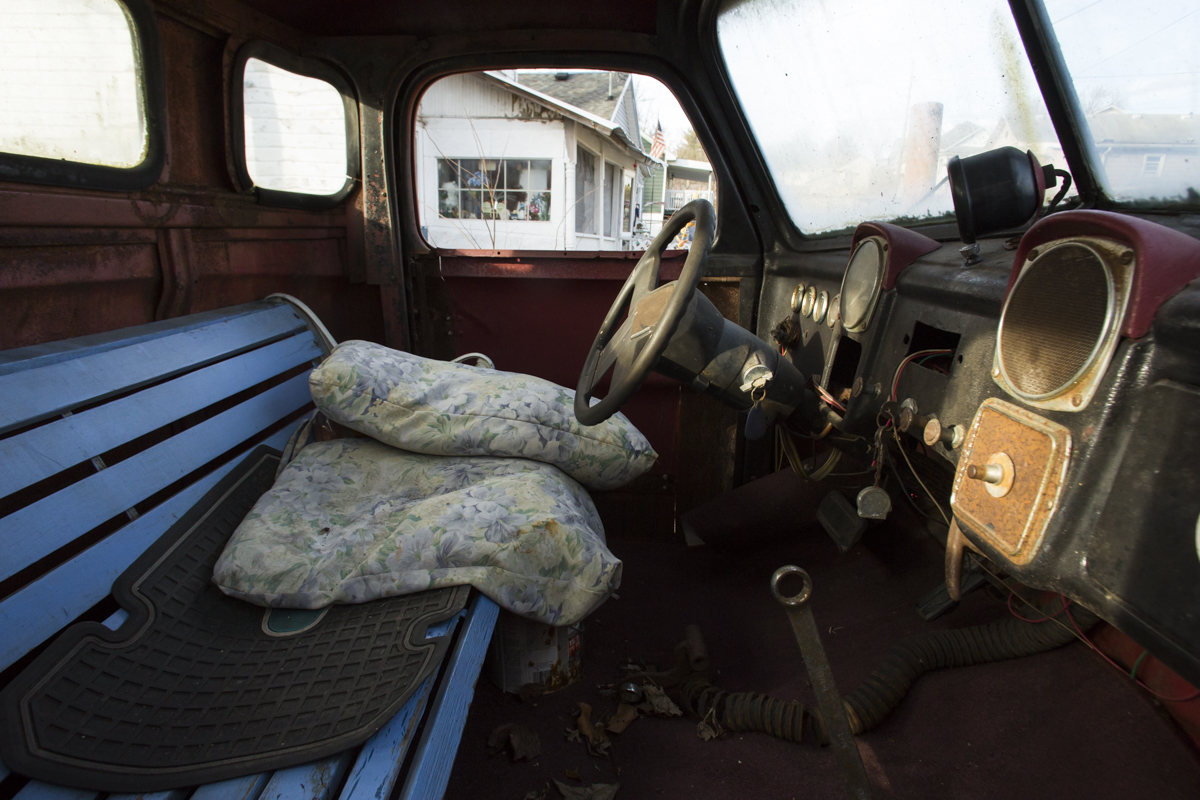 Dale Blosser remodeled the interior of his truck with an old park bench for a seat, and wrench for a gear shifter. Blosser has been living off of unemployment checks since he was laid off from his last job. He enjoys building projects like this truck with scrap wood and metal to help pass the long days.
After a long struggle with alcoholism, mental illness, and being homeless Jamey Taylor chose to return to Glouster where she spent most of her youth. "I've got it all right here," said Taylor, "I thought I was going to be lonely here, I've been living with other people my whole life, I woke up here and thought, 'this is mine."
Many of Glouster's historic buildings from its time as a boom town have either fallen into disrepair or been torn down. "I'd rather see them down than left to rot. I think it's too late to save some of them and that's too bad," said Glouster Project President Betsy Shamhart.
The members of the Glouster Project work hard to maintain the culture and value of Glouster. Most of their work is finishing quilts brought to them that "someone's grandma started and never finished." They do the hand quilting for them and are happy to teach anyone who stops by the Train Depot. "It's an art and it's a lost art almost," said member Sandra Vaughn.
Kyree Hajri, 28, left, and his wife Aerial, 21, relax before going out to the only remaining bar in Glouster. Kyree is originally from Tunisia and has spent 4 years on-and-off in Glouster after being introduced to the town by native Greg Sikorski. Aerial grew up only two houses down from the home she has been sharing with Kyree since last September. "I always say I'm going to leave, but I think I would really miss it even though there's nothing here," says Aerial.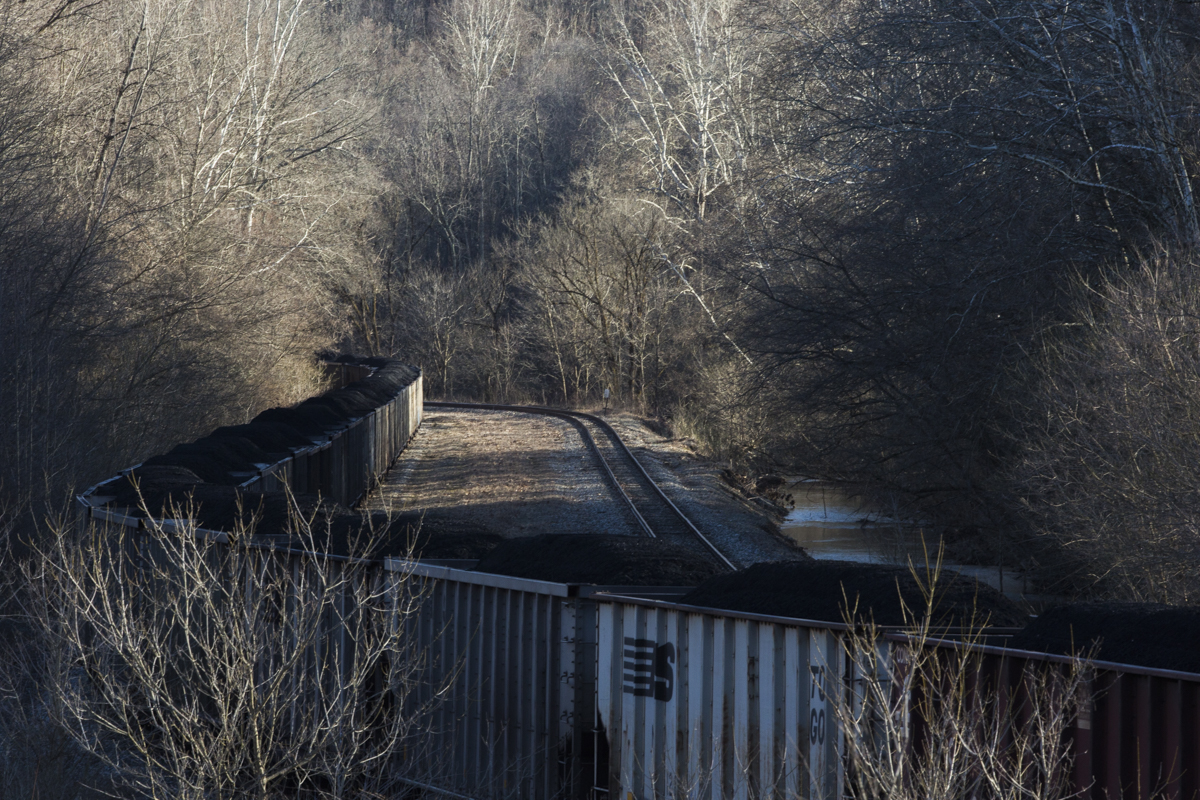 Coal from West Virginia travels through the region to get to Columbus. According to United States Energy Information Administration, as of 2016 11% of United States coal is mined out of West Virginia while 40% comes from Wyoming. Ohio is currently not one of the top 5 producers in the country.